BitterWeber: Live like this!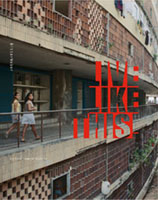 With texts by Catherine David, Reinhard Braun, Jeff Derksen and Neil Smith, as well as an artists' talk with Bik Van der Pol [Liesbeth Bik, Jos van der Pol], Ken Lum, Andrea Geyer, Jayce Salloum, Marina Grzinic, David Thorne and Julia Meltzer (The Speculative Archive).
Edited by Reinhard Braun.
Graz, 2005
German/English
196 pages
19,5 cm x 24,5 cm
100 Farb- und 30 SW-Abbildungen
brochure, jacket, sewn
ISBN: 3-900508-58-6
€ 27.-